Sjöbolyckan's kennel updated
"Short news" 3/11 & 5/11x2 & 9/11
"Our plans" 21/9
"Puppies" 21/9
"Home" 25/12
"Our dogs" 27/4
"Breding standard And Description! DDT" 25/12
"Breeding standard And Description JRT" 25/12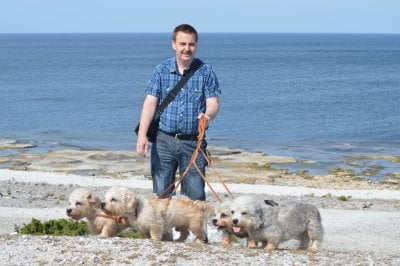 Thomas with the dogs at Faro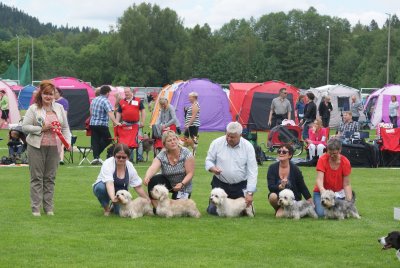 BIS progeny group National Dog Show in Borås 27/6
Welcome to us!
We breed Jack Russell and the Dandie Dinmont Terrier.
We currently have no Jack Russell at the kennel. We have two JRT bitches cowowned. We have three DandieDinmont females for breeding. And in Liahs litter we saved Sjöbolyckans Jewel Epic and Hollys litter  Sjöbolyckans Candy Crush Saga, both pepper colored. At the kennel there are also three Dandie boys available for breeding. Our goal is to breed healthy and sound terrier.
I have gone through SKK breederprogram.
We have permission from the County Administrative Board for breeding.
The 7/8 2014 Visit of the kennel consultants Monica Olen Krüger and Stefan Krüger. They have gone through all the rooms, looked at all my dogs and found everything was clear! I am so pleased and happy for this!
Contact Us:
Janette Andersson Tofteryd Sjöbo 8 56891 Skillingaryd
Phone: 0370-72140 Mobile: 070-3602111   


Please write a message in our guestbook.
Contact us on e-mail: